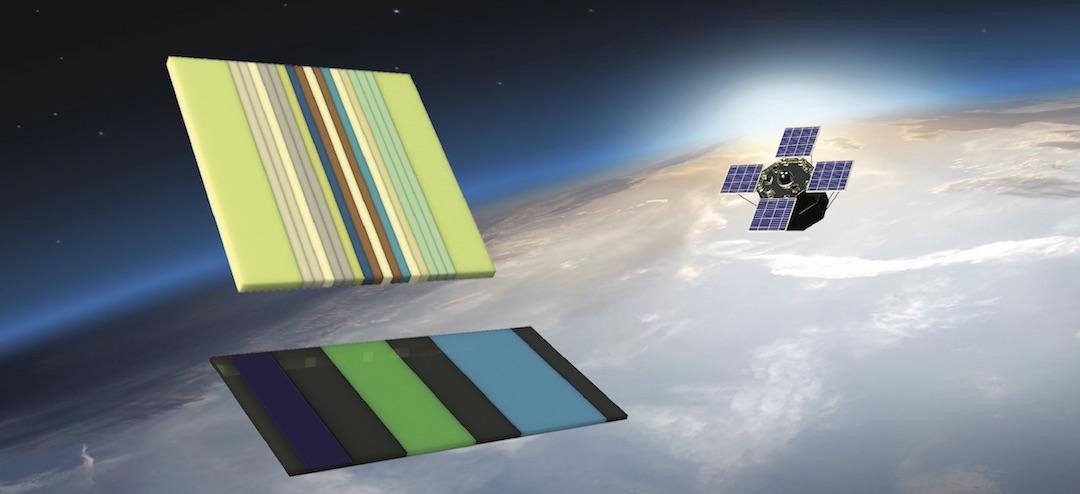 The ability to offer spatially varying spectral performance on a single substrate can have many advantages for optical designers. Iridian offers both assembled multi-zone filter arrays and patterned multi-zone optical filters (sometimes referred to as multi-spectral filters (MSF)) to address these growing needs. Features of Iridian's MZF offerings include:
Filter types:

Long-pass or short-pass filters (LPFs/SPFs)
Bandpass filters (BPFs)
Notch filters
Black absorbing coatings
Anti-reflection coatings (ARs)
High-reflectors (HR)

Wavelength range:

UV (300nm) to the long-wave infrared (LWIR 15 um)

Customization for size, spectral performance, and lay-out (number and size of zones)

Monolithic patterned arrays

"Butcher-block" assembled arrays

Hybrid approaches combining both assembly and patterning
Many diverse applications benefit from the functionality offered by multi-zone filters. Iridian's MZF technology has been deployed in applications such as:
Multi-spectral imaging: Remote sensing (environmental analysis, space, defense and security)
Multi-zone filter wheels: 3D cinema projection ("right-eye" and "left-eye" images)
Order sorting for spectrometers or CCDs
Iridian's MZF capabilities leverage our leading-edge technology to meet and exceed expectations for reliability and optical performance using our proven hard-dielectric coating technology. Iridian's MZF meet durability and reliability requirements for space use (standard MIL specs) as well as customer defined requirements.
Assemblies
Our multi-zone filter assembly approach addresses needs in multi-spectral imaging applications requiring many bands, complex filter coatings, or with constraints on cost. In this approach coatings are deposited on separate substrates that are subsequently attached together using robust assembly methods. These assemblies can achieve zone-to-zone transitions of < 100 μm and have been manufactured with as many as ten different spectral bands, turning single detectors into multi-spectral imaging devices.
Assembled MZF's can include a patterned black coating to define the desired clear apertures of the individual zones and reduce scatter and stray light along the seams between zones and at the outer edges of the arrays.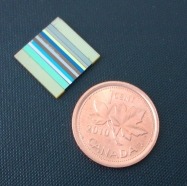 The image above shows a MZF with ten bandpass filters between 3um and 13 um developed under a subcontract from ABB Canada for the Space Technology Development Program of the Canadian Space Agency.
Patterning
For applications requiring a small transition zone or patterns not possible to achieve by assembly, Iridian's patterned multi-zone filters are the perfect choice.
Iridian's in-house photo-lithography lab is housed in a Class 1000 clean room capable of patterning up to 150 mm diameter wafers. Multi-step patterning can be performed creating MZF's with as many as five different zones and zone-to-zone transitions of as little as 20 μm.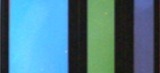 Patterned MZF's can include black coating transition zones to isolate the separate spectral bands, reducing the potential for cross-talk at the detector.